Mesotherapy By Dermedics
You can have luminous, dewy, fresh skin. Mesotherapy by Dermedics addresses the common issues experienced by many women; acne, rosacea, post-acne scars, aging and photo-aging, hyperpigmentation, discoloration, wrinkles, sagging, post-sun trauma, eczema, inflammation, broken capillaries, couperose, dehydration, hair excess (hirsutism), alopecia, cellulite, fat excess (obesity) and stretch marks.
Mesotherapy by DERMEDICS™ is created with the most innovative active ingredients, such as: plant stem cells, peptides, liposomes, algae, herbal extracts, minerals and vitamins – everything to provide safe, instant and long-lasting beauty effects without irritations. Free of parabens, fragrance, alcohol, colourant, and allergen-free.
The advanced production technologies, active ingredients and professional beauty therapy using a MST pen provide stunning results visibly after just one treatment!
---
#1 Meso Brightening
BB Glow
This serum lightens and brightens! It is perfect for safe and intensive skin lightening. It reduces the appearance of age spots, sun spots, acne scars, and unwanted freckles. BB Glow not only corrects skin discolouration and UV damage, but it evens the skin tone for an immediate, even complexion.
---
#2 Meso Acne
Acne Symptom Solution
Designed for soothing oily or combination skin that is prone to pimples and breakouts, Meso Acne treats both active acne and reduces the pigmentation from acne scars. Its effective antibacterial complex includes oleanolic acid and willowherb extract to combat acne. Reduce inflammation, bacterial colonization, and pore appearance with this purifying treatment.
---
#3 Meso Wrinkle Smoothing
3D Wrinkle Reductor
This treatment remains needleless while delivering spectacular skin smoothing and diminishment of wrinkle depth. The structure of your skin's connective tissue is improved while collagen is triggered for cell turnover. Results are visible within minutes and are popular for the face and decolletage, making this a perfect facial for special events or regular skin support for long-term firming.
---
#4 Meso Rejuvenate
Youth Gene Activator
This cocktail facial is the ultimate rejuvenation treatment for reclaiming youthful skin! Mesogen'X activates your facial skin cells to trigger regeneration. Results continue to unfold after the treatment is complete as skin elasticity and firmness improve with new and strengthened skin cells. Rejuvenate your skin per 12 years in 2 months!
---
#5 Meso Hair
Intensive Hair Therapy & Premature Hair Loss Prevention
MesoHair is a peptide serum created for reinforcement of hair bulbs to prevent hair loss. This intensive therapy is recommended for people experiencing premature hair loss. The MST by Dermedics contains a mixture of minerals, vitamins, amino acids, and co-enzymes that are deposited directly into the target area. Thus, they provide patients with the nutrients needed to stimulate hair growth, while also increasing blood circulation to the scalp, reducing inflammation, stimulating collagen, increasing follicle size, and correcting DHT levels.
---
#6 Meso HA+C
Skin Renewal Stimulator
Revitalising serum for dry and damaged skin, this serum is designed for deep revitalisation of the skin by stimulating the epidermis to renew itself. Ideal for skin that lacks firmness and elasticity and with hyperpigmentation caused by sun, solarium, acne or aging.
---
#7 Meso Calm
Instant Soothing Elixir
A serum designed to assist in calming the discomfort associated with weak, itchy, highly irritated or reddened skin. It has soothing properties, so it can be applied on the most delicate, demanding or sensitive skin condition.
---
#8 Meso Meno
Anti-Age Nutritive Elixir
A serum designed to ensure strong anti-aging action, deep hydration and rich nutrition for mature skin of women.
---
#9 Meso Slim
Fat Cells Reductor
A serum designed to treat the body in areas with tendency to fat cell accumulation and cellulite creation. Recommended for slimming treatments for women and men of all ages.
---
#10 Meso Vital
Youth Reconstructor
A serum with peptides and liposomes designed for deep regeneration and revitalisation of skin to restore its young and healthy appearance.
---
#11 Meso ECM
Skin Re-Volumiser
A serum created for intensive regeneration of the damaged extra-cellular matrix and for deactivation inflammation which is responsible for tissue degradation. Deep line corrective serum also improves the skin's texture and cohesion.
---
#12 Meso Hydra+
Oxygenating Moisturiser
The newest generation serum designed for targeted innovative anti-aging treatments by activating skin regeneration essential to maintain its youthful appearance.
---
#13 Meso Capil
Broken Capillaries Solution
A strengthening serum created for skins prone to broken capillaries, redness, puffiness and cellulite. It diminishes the cutaneous capillary hyper-permeability, improves vascular protection, supports skin detoxification and restores a more youthful appearance.
---
#14 Meso SHR
Excess Hair Solution
A serum designed for safe and effective reduction of unwanted hair with state of the art anti-aging and skin protecting properties. Ideal solution in skincare after shaving, depilation and photo-epilation.
---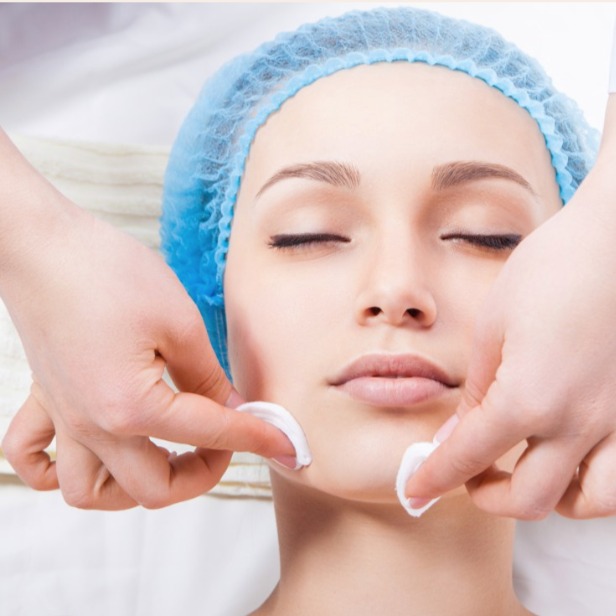 1 Session

$280.00

3 Sessions

$700.00

Receive $150 off your first session with a DERMEDIC SKIN CARE SYSTEM treatment
Please note this discount is available to New Clients Only.