Do you want younger looking skin? Do you want more youthful looking skin without surgery, pain-free, and with minimal downtime? No stitches, no needles, and no anesthetic
How does it work?
Fibroblast treatment is a brand new facelift procedure. It is non-invasive and tightens your skin for instant results. Using the latest in plasma technology, you can shrink excess skin, remove wrinkles, stretch sensitive areas like eyelids to get immediate results from only $100.00.
What does it resolve?
Smokers lines, Necklines, Hooded Eyes, Moles, Fibromas, Warts, Skin tags, Facial wrinkles, Age spots, sun spots, freckles, chloasma, eyelid tightening, hand wrinkles, scarring, stretch marks, acne scars.
What is the Fibroblast technology?
The Fibroblast technology is the only treatment to reduce excess skin without surgery. It does this by producing a tiny plasma flash that reaches the surface at a micro-millimetre sized point. This point tightens skin in its immediate vicinity and pulls the cells close together.
The procedure typically takes 30-60 minutes to do most parts of the body and face. Results are instant, with peak results happening between 3-6 weeks after treatment, and continued tightening as far as 12 weeks from the date of treatment.
For results similar to a surgical procedure, we recommend talking to our trained specialists to determine the right treatment schedule for you.
Compared to other similar methods, Fibroblast is much less invasive and expensive. While there is still a 2-5 day swelling period, it is much shorter and less uncomfortable than conventional treatments. You may experience a dotting effect from the tiny plasma flash causing "crusts," but these are purely cosmetic and typically gone within the week. You can cover them up with makeup to reduce the visibility if you wish. Keep the treated area away from excessive moisture and keep it clean. Use a broad spectrum sunscreen to keep it protected. Don't expose the
area to extreme heat or cold until it is fully healed. Mineral makeup should only be applied after the third day of the treatment. Make sure that the makeup is new and only applied with a brand new sponge or brush.
Please contact us if there's any doubt, we're happy to help. You will need a free consultation before booking an appointment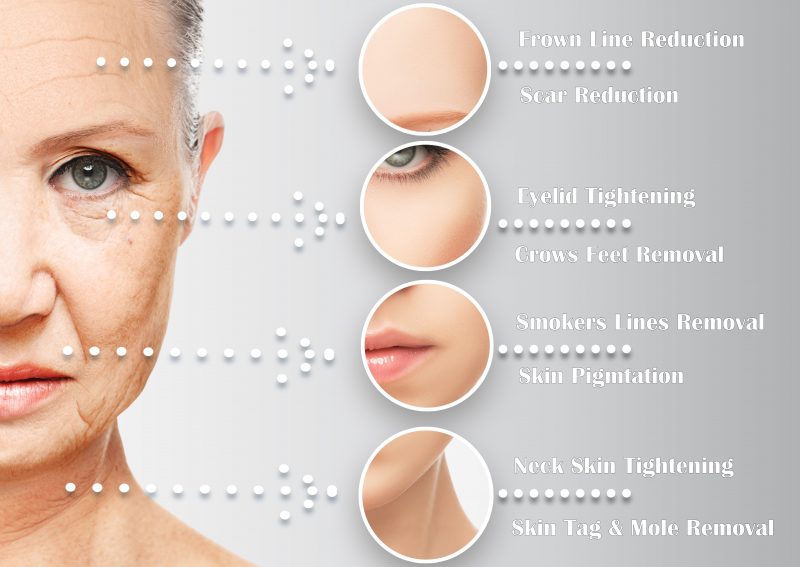 Upper Eyelid

$450

Top Lip

$299

Chin

$200

Moles & Skin Tags

$200

Moles & Skin Tags

$100

Lower Eyelid

$450

Bottom Lip

$299

Neck Lift

$500+

Stretch Marks & Scars

$100+

Upper Eyelid & Lower Eyelid

$750

Top and Bottom Lip

$500

Full Face Lift

$1500

Brow Lift

$400

Crows Feet

$299

Nasolabial Lines

$350

Partial Face Lift

$750

Full Hands or Stomach

$750

Forehead lines

$500

Jowl/jawline

$400

Frown

$200

Breast

$850

Chest

$750

Stomach

$1500